Doggie Daycare Services
Hours of operation:
Monday-Friday 6:30am-6:30pm
Saturday 9am-3pm
Sunday by appointment only
The purpose of our Doggie Day Care facility is to provide a fun, safe and stimulating social environment for dogs during thier visit. To ensure the safety and health of the guests we require all guests to comply with the following rules and regulations: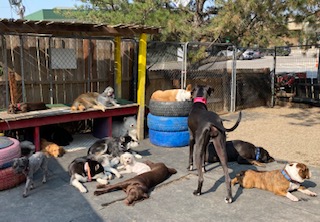 AGE:
All dogs 9 months or older must be spayed or neutered.
Vaccinations:
All dogs must have current vaccinations (Bordetella, Distemper, Parvo, Rabies or Combination Vaccine). Owners need to submit proof of these for our files.
Rabies vaccine is mandatory by the state of Nebraska.
HEALTH:
All our guests must be in good health. Owners will certify their dog(s) are in good health and have not been ill with a communicable condition in the last 30 days.
Upon admission, all dogs must be free from any condition which could potentially jeopardize other guests.
Dogs that have been ill within the last 30 days may be admitted with a letter from a veterinarian stating the dog is in good health.
BEHAVIOR:
All dogs must be non-aggressive and not overly protective. Safety for all our guests is our main concern.
All dogs must complete an evaluation test prior to being accepted into daycare.
APPLICATION:
All dogs must have a complete, up-to-date and approved application on file.
MUST have enrollment form (Click link and print enrollment form)
MUST have hard copy of Medical and Vaccination Records from your veterinarian.
MUST call in advance to schedule an Evaluation
FEE:
Full day pass: $30.00
5, 10, 20 Discount passes available. Must attend once a week for Discount